-----------------------------
Bromeliaceae
Brocchinia (2)
Catopsis (1)
Eriocaulaceae
Paepalanthus (1)
-----------------------------
Cephalotaceae
Cephalotus (1)
-----------------------------
Droseraceae
Drosera (242)
Aldrovanda (1)
Dionaea (1)
Nepenthaceae
Nepenthes (158)
Drosophyllaceae
Drosophyllum (1)
Dioncophyllaceae
Triphyophyllum (1)
-----------------------------
Sarraceniaceae
Darlingtonia (1)
Sarracenia (8)
Heliamphora (23)
Roridulaceae
Roridula (2)
-----------------------------
Plantaginaceae
Philcoxia (7)
Byblidaceae
Byblis (8)
Martyniaceae
Ibicella (2)
Proboscidea (2)
Lentibulariaceae
Pinguicula (91)
Genlisea (30)
Utricularia (228)
-----------------------------
Carnivorous Plants Distribution Map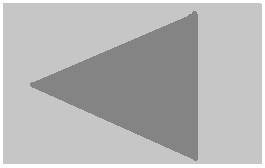 HOME
GENUS Byblis FAMILY Byblidaceae B. aquatica B. pilbarana B. guehoi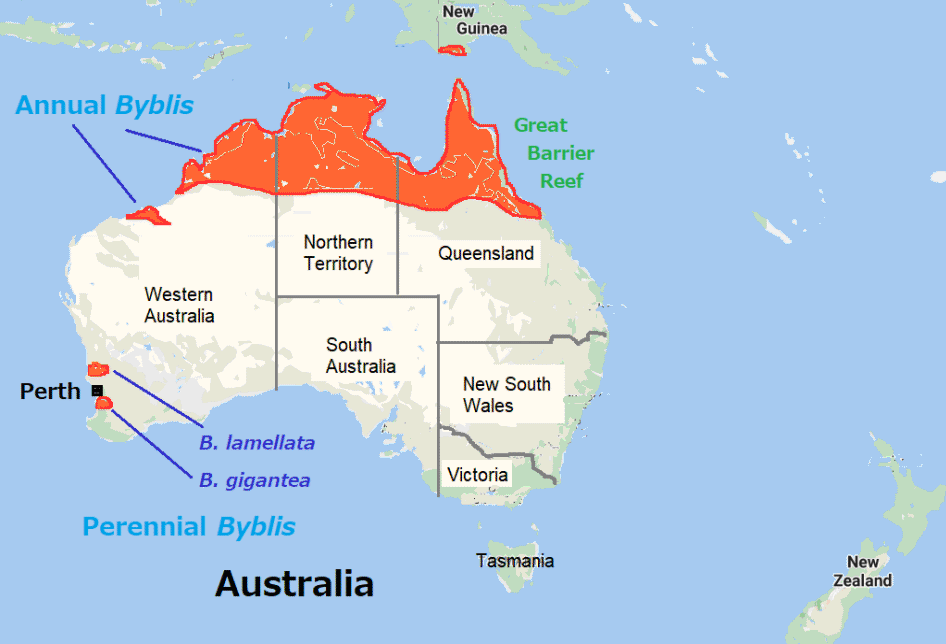 B. aquatica B. pilbarana B. guehoi B. filifolia B. gigantea B. lamellata B. liniflora B. rorida
DISCOVERY OF BYBLIS
HMS Endeavour - a British Royal Navy research vessel : Lieutenant James Cook. 1768-1771. to explore Australia and New Zealand.
The ship departed Plymouth in August 1768. Reached Tahiti just in time to observe the 1769 transit of Venus across the Sun.
She then set sail into the largely uncharted ocean to the south. In September 1769, she anchored off New Zealand.
In April 1770, Endeavour became the first ship to reach the east coast of Australia, with Cook going ashore on what is now known as "Botany Bay".
Endeavour then sailed north along the Australian coast.
She narrowly avoided disaster after running aground on the Great Barrier Reef.
Endeavour was beached on the Australian mainland for several weeks for repair.
This allowed the naturalists on board the HMS Endeavour, Joseph Banks, Herman Sporing Jr. and Daniel Solander
(who suggested the name Dionaea), to study the local flora and fauna and collect Australian plant life, including Byblis.
In 1808, the specimen was formally described as Byblis liniflora by British botanist Richard Anthony Salisbury.
Thirty-one years later, another species was collected by James Drummond and formally described as Byblis gigantea by British botanist John Lindley in 1839.
--- ref.: McPherson (2010)